Skip to Main Content
It looks like you're using Internet Explorer 11 or older. This website works best with modern browsers such as the latest versions of Chrome, Firefox, Safari, and Edge. If you continue with this browser, you may see unexpected results.
APA Style Guides from the 7th Ed. website
The links below are directly from the American Psychological Association website. Note that the School of Business may have requirements not listed in these, or other, guides. Follow the APA Template provided in the LibGuide built for your class, or your professor's instructions.
I no longer recommend the Online Writing Laboratory (OWL) at Purdue. Please note that the use of a Citation Generator is problematic if you do not already have a working knowledge of APA Style.
Common Reference Examples Guide

This guide contains examples of common types of APA Style references. Section numbers indicate where to find the examples in the Publication Manual of the American Psychological Association (7th ed.).

In-text citation checklist

Charts of the most common forms of in-text citation
Legal References: In APA Style, most legal materials are cited in the standard legal citation style used for legal references across all disciplines. See Chapter 11 of the Publication Manual covers APA guidelines for legal references. For more information see The Bluebook: Uniform System of Citation (Bluebook, 2015). The Bluebook is available in the Wiggins Library Reference stacks (first floor) at call number KF245 .B58 2015.
CLASSIC ARTICLE: Original 1929 APA Style

Bentley, M., Peerenboom, C. A., Hodge, F. W., Passano, E. B., Warren, H. C., & Washburn, M. F. (1929). Instructions in regard to preparation of manuscript. Psychological Bulletin, 26(2), 57–63. https://doi.org/10.1037/h0071487
Attributing your own work
Create a bright line between your work and the work of others.
LFSB APA Tutorials & Videos
Vendor APA Tutorials (MS Word & Google Docs)
Use of Citation Generators & advice sites e.g. OWL at Perdue
Using citation generators responsibly

Under APA rules students are responsible for local adaptations required by the professor or the institution their work is submitted to. The APA Template provided on the LibGuide incorporates adaptations of APA style requested by the faculty and leadership of the Lundy Fetterman School of Business. Please check with your professor if you are in doubt as to the standards by which your work will be graded.
Find the Publication Manual at Wiggins Library!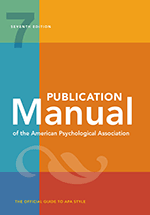 Copies of the Publication Manual (7th ed.) are available at the Wiggins Library
Look for call number LB 2369.P8 2019 or LB 2369.P8 2020
Wiggins Basement stacks (available for checkout)
Wiggins Reference stacks (first floor - must use the book in the library).
Wiggins Reference Desk (first floor - ask at the desk, must use the book at the desk)
GENERIC Guidelines for LFSB paper assignments
LFSB Writing Rubric

This is the standard writing rubric for the Lundy-Fetterman School of Business, If I review your drafts, your work will be scored using the Professionalism Criteria section at the bottom of the page.

LFSB APA Template GENERIC

This is a GENERIC version of the APA format adapted by the School of Business. It includes an LFSB Title Page; page numbers, double spacing, sample headings, page breaks, and placement of the Executive Summary, text, References page, Tables, Figures, and Appendix in the order of manuscript pages, You may wish to download this template to start your paper - IF NO SPECIFIC APA TEMPLATE WAS BUILT FOR YOUR CLASS.